Planned Parenthood apparently wants to up the SJW factor in Disney Princesses even further.  Here's what they tweeted before it was taken down: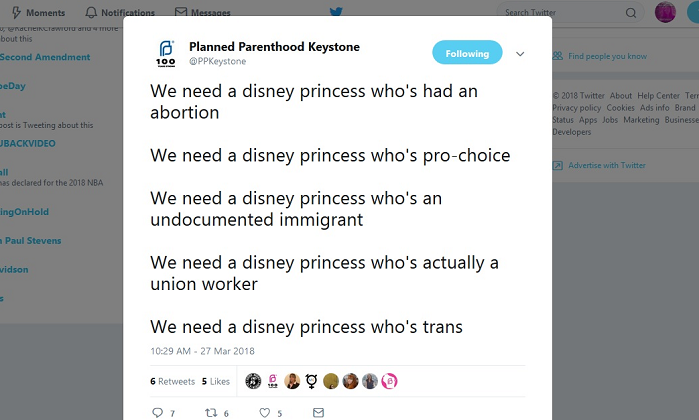 LifeNews notes that "nothing is sacred" to Planned Parenthood, but it's really hard to get outraged over this–as though wanting to corrupt the kids is a bigger deal than wanting to dismember them and sell their body parts for profit.  What's more, I have little doubt that we'll see at least a few items from that list in the coming decade or two (if I were a betting man, I'd say illegal alien first followed by a boy who thinks he's a girl.)
Instead, my fervent hope is that Disney will actually do all 5–with the same princess.
The reality is that Disney has been corrupting the youth for a long time at this point,  and hardly anybody notices.  The insanely popular "Let it Go" from Frozen promotes the same kind of radical self-worship that you'd find in the Church of Satan.  As Vox Day recently pointed out,  "It's time to see what I can do / To test the limits and break through / No right, no wrong, no rules for me / I'm free!" isn't appreciably different from Alastair Crowley's "Do what thou wilt shall be the whole of the law."  There's a reason this song is embraced as an LGBT anthem, and yet Christians still willingly feed this stuff to their own kids.
I want Disney to create a pro-choice trans undocumented union worker princess who's had a dozen abortions because something that radical might at least clue some people in to what they're watching.